With the help of Paul Walker and Vin Diesel's chemistry and some intense racing scenes, Rob Cohen's The Fast and the Furious (2001) was an instant hit among racing fans. And like most franchises with critical financial success, a sequel started to be put into the works. Similar to many other sequels, it was distributed two years later and it's difficult to say whether it pleased fans as much as the first one did. According to this site, this is lowest score the franchise has. It wasn't bad at all but it was missing a few elements of the first movie, which left a more entertaining feeling.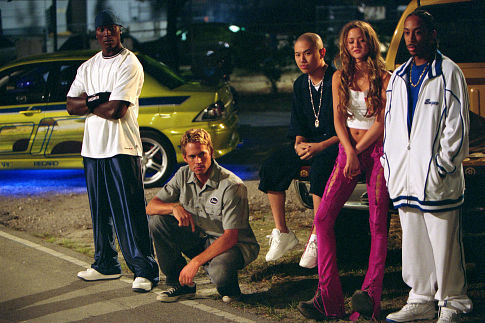 Paul Walker & his gang
The story follows ex-cop Brian O'Conner (Paul Walker) back to Miami from Los Angeles where he's enjoying his time racing street cars only to be pulled back by the authorities that he dropped. Heading the authorities is Agent Bilkins (Thom Barry) from the first installment and this time he wants O'Conner back one more time to take down a drug lord. And O'Conner can't refuse because he'd go to jail if he didn't accept. Plus, if the drug lord is turned in, all of his criminal charges will disappear. Why does this plot sound like Vin Diesel's xXx (2002) plot line (except it doesn't deal with a drug lord)? Speaking of which, why didn't Vin Diesel return? That's one thing that this franchise consistently needs. Paul Walker is the central character but Vin Diesel's presence was the icing on the cake.
Is was nice though that the writers kept the continuity together. The characters do reference material from the first film which shows the producers want to keep the story going and not divert completely from the original. But if there's one thing that comes into question, it is the concept of getting caught having a love interest in the business. This happened in the first movie and it blew O'Conners cover. Here the same thing happens in a similar way. You'd think the lesson was learned. Sigh. The new interest is Eva Mendes and she plays her character well enough. Accompanying O'Conner is Roman Pearce (Tyrese Gibson) an old friend who originally has a grudge for some of his own issues. Even with this though, their chemistry works well.
Cole Hauser
Playing the drug lord is another interesting actor - Cole Hauser. He has a very smooth deep voice and resembles a very young Tom Berenger. He's also able to make his character seem dangerous enough to hurt someone. That's it for characters. The music produced by David Arnold of Stargate (1994) sounded better than BT's score from the first film but it wasn't evident enough. Barely heard a thing. As for action scenes, the racing is still fast paced and contains much of the same film making as the first, which kept the feeling the same. Other than that, the story feels the same as before but without Vin Diesel.
It's not a bad follow up to the first movie, but not casting Vin Diesel wasn't smart - it's like missing a piece to a puzzle. Other than that, it's still a decent watch with better music and well-staged action sequences.
Points Earned --> 6:10