Through the years Sylvester Stallone as an actor has gone through multiple changes. He's played action leads, comedic characters and dramatic roles. His fans love the nostalgia he holds for the era he was most popular in and his ability to be charming in the cheesiest of fashions has proven to be a strong point for him. But of these characters, the role he has given the most human and likable performance to belongs to Rocky Balboa in his film debut in the hit sports drama Rocky (1976). As stated by Stallone in several interviews, the way Rocky was written for each film had events that paralleled that of Stallone's own life. Now although not every Rocky sequel is equal to each other, Stallone has created quite the legacy for the character. Of this series, there was one other character who deserved that recognition and that was Apollo Creed played by Carl Weathers in the first four films. After the tragic death of Creed in Rocky IV (1985), the idea of carrying on the underrated name seemed unlikely. That is until director Ryan Coogler thought of it.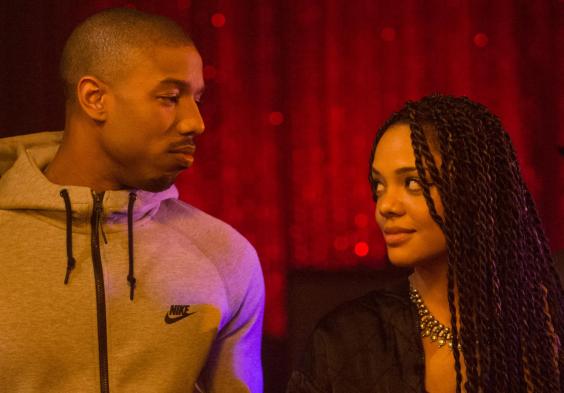 Adonis & Bianca
Before this popular spin-off of the Rocky series came to a reality, Ryan Coogler was only known for making one other theatrically released film. That film was Fruitvale Station (2013), a biopic surrounding a controversial public dispute gone wrong between a civilian and a police officer. Starring in that film was then up and coming actor Michael B. Jordan, who had worked in films before but none of such magnitude. For both men and for what they had to work with in resources, the movie had quite a moving story and there was very little that wasn't effective on the viewer. After receiving the notoriety that was needed, Coogler pursued and persuaded Sylvester Stallone that the story of the Creed name was not finished. Written by Coogler and Aaron Covington (in his first writing credit), create a solid story that will bring in new and old fans alike to see what there is to continue in Apollo's footsteps. Joining Coogler once more is Michael B. Jordan as Apollo's unborn son named Adonis Johnson when he died.
Wanting to initially get away from his father's shadow, Adonis fights for himself but soon contacts an aging Rocky (Stallone) once he realizes he needs a professional at his side. As the two work together, they form a bond and Adonis begins to learn that maybe his last name means more to him than his thinks. While training Adonis also meets Bianca (Tessa Thompson), an upcoming musical performer who has her own set of goals. After some time, they too catch feelings for each other. These three characters alone do most of the heavy lifting and it is very praiseworthy. All three have wonderful chemistry with each other in their own ways and the audience will feel very close to them. Phylicia Rashad also plays Adonis' mother who does share important developmental scenes for her son. But of all the other characters, they don't have much input, which is okay for this installment. Initially, Rocky has some friction between another trainer Pete Sporino (Ritchie Coster) and his son, but after one bout they didn't linger around.
Instead, Rocky and Adonis are contacted by Tommy Holiday (Graham McTavish) who represents 'Pretty' Ricky Conlan (Tony Bellew) to fight, but only under the name of Creed. The reason why they're contacted is that Conlan needs another fight to keep him from losing income after his temper gets him into trouble. With out Conlan being written this way, as of right now, he wouldn't have had any other reason to fight. So with this, the subplots aren't as focused as the character development. The only other noticeable thing is that the script has excellent continuity except for one character and that's Duke played by the amazing Tony Burton. Audiences will be kept up to date on every other character except Duke and he was the one who had been through it all! They have Wood Harris play a character named Tony 'Little Duke' Burton but that doesn't explain what happened to Duke senior. Of all people, come on guys. In spite of this though, both screenwriters provide a ton of respect for all the older films and events that took place before it.
"What I tell you? Women weaken legs"
Providing the camerawork to this boxing drama was Maryse Alberti. Before this megahit, Alberti had other experience as the cinematographer to multiple documentaries, TV movies and other well-known films like Tape (2001), The Wrestler (2008) and The Visit (2015). The film that would probably have the most benefit to this spin-off would be The Wrestler (2008) considering the setting. For the boxing matches, the energy is definitely there and there are a number of long uncut scenes that will keep the viewers watching. This helps the fights feel more authentic rather than using quick edits. Scoring the music is another Ryan Coogler collaborator and that goes to Ludwig Göransson. Göransson who although produced a minimal score to Fruitvale Station (2013), goes all out here. While preserving Rocky's theme, he also creates a headstrong new theme for Adonis Creed and it is a catchy one. He also uses synths in some cases to give the music a more soulful feel, which also coincides with Tessa Thompson's music. It is actually very relaxing.
Script wise, it is meticulous in its effort to keep strong continuity but it forgets all about Tony Burton's role and it subplots based on the fighters other than Adonis don't have the strongest focus. Yet among this, Michael B. Jordan, Sylvester Stallone and Tessa Thompson all play very likable characters with great onscreen chemistry. The boxing matches are well shot and choreographed, and the musical score is a soothing mix of soul/R&B and orchestral progressions.
Points Earned -->7:10