Among hobbies that come and go when it comes to movies, the internet film critic persona really exploded in the early 2000s after the show Siskel & Ebert initially started the trend decades before. But with that, many sensations most notably The Nostalgia Critic played by Doug Walker gained a lot of attention after covering what was supposedly the worst movie ever made. Yet as much as they bashed it, everyone still recommended seeing it and that was because of the man behind the whole production. That man, Tommy Wiseau has now gone from complete movie reject to film celebrity because of The Room (2003) he had released so many years ago. Although there are several things known about Wiseau, there are still many basic facts nobody knows about him like his ethnic background and how old he is. Nevertheless, with his movie now having a collective fan base, there was bound to be a movie made about it whether it be a biopic or documentary. Really the biopic was the only option left because the documentary was already done.
"Soo,...what was my line again?"
With a script adapted from a book based on the experience of Greg Sestero (one of the actors from the original film), the story seems to have all its cards in place. The adaptation was handled by Scott Neustadter and Michael H. Weber (Paper Towns (2015)), who worked together since their start. The components to the screenplay that really hit home for many fans of the movie, or to those who were indirectly introduced to it, was the overall message in plot and the story behind the making of The Room (2003). If Tommy Wiseau is quoted as being 99.9% happy with the finished product, then it is safe to say that the events shown on screen are true. And if that is a fact, then as much as people think Wiseau is a strange person, he really does teach a lesson to viewers. For us the audience, that means to never give up on your dreams and to never let anyone tell you otherwise. In life there will always be things that try to stop you from what you want to do. In order to succeed, one must learn how to work around it.
Seeing that notion repeated over and over throughout the running time is something everyone needs to tell themselves. If this is truly what Tommy Wiseau believes in real life, he is a much deeper individual than many people think. As for the actors who play Wiseau and company, the main cast was great. James Franco who plays Wiseau (and directs this feature too) did an amazing job becoming Wiseau. Franco easily grabs the attention of the viewers with his spot on take of Wiseau. One would really have to sit back and remind themselves that it's only Franco and not Wiseau himself. Playing Greg Sestero is James' brother Dave Franco and although it may seem like cheating, that two brothers are playing the starring roles, the two work well together. That goes even for the times where friction occurs. For supporting actors, Seth Rogen as Sandy the script supervisor has a number of funny lines. Ari Graynor who plays the Lisa character does a good job at replicating the infamous scenes from the film as well.
Playing Denny was Josh Hutcherson who plays the character from the original movie accurately too. There also appearances from other actors like Alison Brie, Jacki Weaver, Paul Scheer, Zac Efron, Judd Apatow and even Bryan Cranston. Seeing all of this happen though is still astounding due to the fact that Tommy Wiseau went from a complete nobody on the Hollywood radar for a decade or so. Later to transform from incompetent filmmaker to glorified genius. This just proves the fact that no matter what you do, if you keep pushing the direction you want to go, you will be recognized for it. Tommy Wiseau wanted to have his shot at being famous back in the early 2000s, and now he really is. Sometimes success, fame or money does not come instantaneously like some think. The same could also be said for Greg Sestero who had a bunch of opportunities pop up. But in the end, he's best known for this feature and has openly welcomed that notoriety as much as he hesitated about it at first.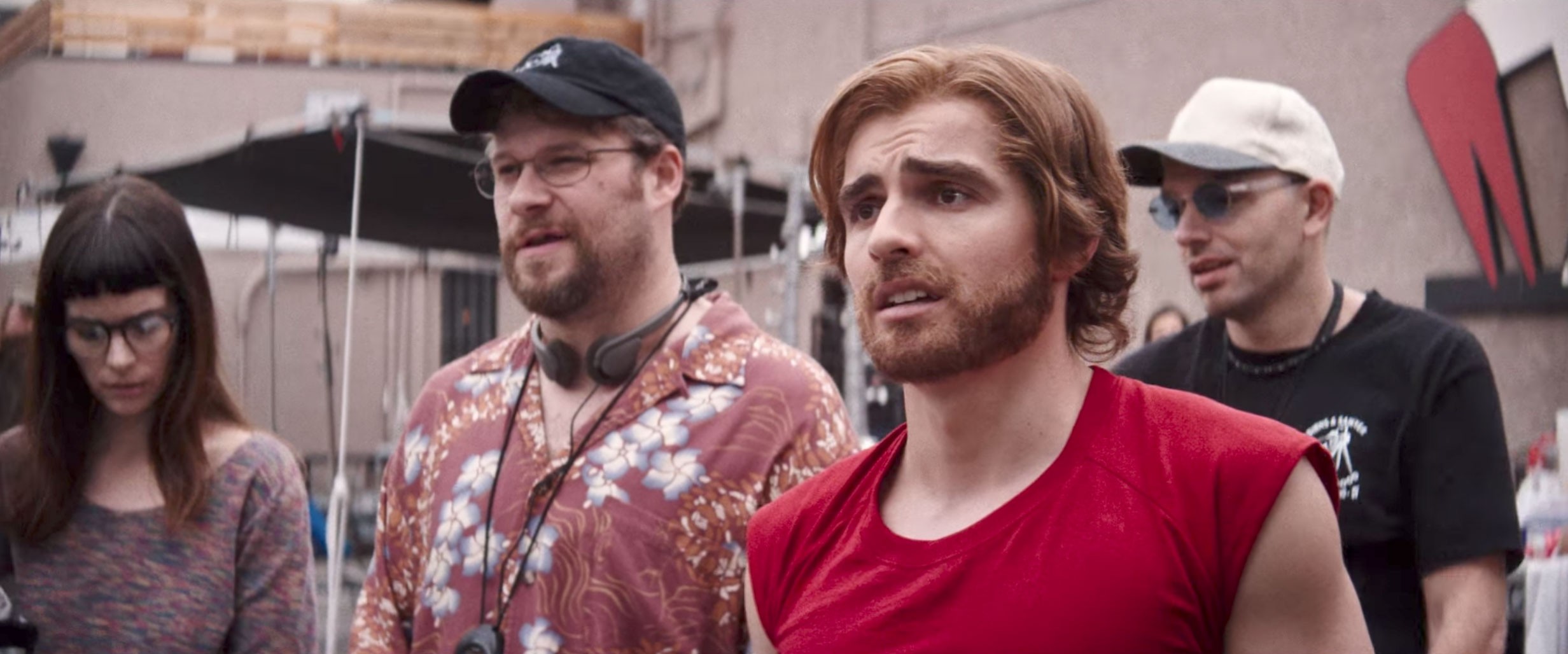 Seth Rogen & Dave Franco
The one element to this film that was not the best was the camerawork. Brandon Trost was the cinematographer to this feature and it's a mixed bag of visuals. At times the camera lens flows easily over the scene at hand and does capture a number of backgrounds that are appealing to look at. However, there are moments where the camera moves around while filming like it's being held via camcorder. It wobbles and jiggles to the point where it gets frustrating to watch. I understand the usefulness if Trost wants to replicate the quality of technology at the time when The Room (2003) was made, but most of those times are not used to show that. Trost also worked on Crank: High Voltage (2009), Halloween II (2009), Ghost Rider: Spirit of Vengeance (2012), Neighbors (2014) and The Interview (2014).The music on the other hand was composed by Dave Porter. Though it did not have a signature theme for the film, it's probably best it did not since this is not a film that really requires it. He also made the music to Smiley (2012).
While the camerawork can be erratic at times, the rest of the movie prevails in being an underdog story about one of the most mysterious underdogs in all of cinema history. The biopic of how Tommy Wiseau and Greg Sestero met and make The Room (2003) is actually quite an uplifting adventure.
Points Earned --> 8:10