As clearly stated by Don Mancini, the creator of the Child's Play franchise, Universal studios pushed him to begin writing a screenplay for this movie before Child's Play 2 (1990) was even ready to go. Thus, the result was that Mancini had no ideas left on how to continue the story of Charles Lee Ray, stuck in a Good Guy Doll's body. I mean can you blame him? It was baffling enough how in the name of all that's holy how to bring back Chucky from the original Child's Play (1988). Instead of being disassembled, Chucky's head was blown off this time. How do you bring someone back after that? Mancini found a way, but it's certainly not as forgivable as it was for the first sequel.
Say cheese Tyler!
The story surprisingly makes good use of its history and starts off with showing the aged and dusty factory of where the finale of the last film ended. There, the headless body of Chucky is melted down and remade. This apparently brings him back again. The continuity is great but how is that though? It was acceptable to a point in Child's Play 2 (1990) because the original body of Chucky was just dismembered and was cleaned off and reassembled. But to be first, missing a head, being melted down entirely and then remade? As much as the first resurrection was preposterous, the idea worked. Here, it just felt like a quick way to get Chucky back up. It's not like fans wouldn't want him back but a better method of rebirth would've been appreciated.
Once up and running again, the lakeshore strangler immediately finds out where Andy Barclay is, but his plans abruptly change gears. Before he finds Andy, Chucky meets a new youngster named Tyler (who's also friends with Andy). There he decides that Tyler will be his new host. The new Andy is played by Justin Whalin, who later played Jimmy Olsen in the TV series, Lois and Clark. Whalin plays Andy as a sixteen-year-old, now in military school. Well that was a quick jump in time. One year passes between films and more than half a decade whizzes by our main protagonist. Whalin looks like he could be the older version of actor Alex Vincent (who originally played Andy) so that works.
But what happened to Kyle from the last film? Much of the continuity is faithful to its predeceasing stories but the small things should be paid attention to as well. Instead of Kyle, Andy befriends another girl named De Silva (Perrey Reeves), there they form a friendly relationship in a tough school. The depiction of military school isn't as accurate as one would think here. Yes, there are drills and loud commands spouted out from superior officers but as a whole, it doesn't feel as intense as it could be. Nevertheless, Andy is the only character who believes Chucky still lives. Meanwhile, he's bullied by his superiors and fellow soldiers. No surprise there, nobody wants to be friends with Andy. It's sad, but at least this is the final film involving Chucky going after Barclay.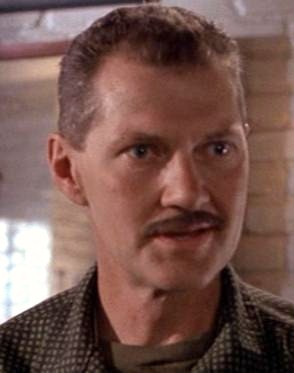 Crazy Andrew
Its not needed to be said but Brad Dourif of course entertains as Chucky. His dialog is still funny and you can't help but enjoy his performance as the pissed off doll that can't cut a break with finding a body to inhabit. More interesting is seeing actor Andrew Robinson from Clive Barker's Hellraiser (1987) have a small role as a barber to the school. His performance isn't memorable but is comical because as a barber to a military school, his obsession with keeping short hair goes beyond normalcy. He's just crazy about keeping short hair, a little too often. For gore, the violence feels in the middle to that of the first two movies. Nothing goes all out ugly like it did in Child's Play 2 (1990), but it's also not as tame as the violence in Child's Play (1988). Either way, it's intriguing to see what twisted methods Chucky has in store this time.
The cinematography is mostly competent by John R. Leonetti. What he captures on screen isn't anything beautiful but there are times where the landscape is big which helps it feel like the place Andy is in, isn't a small school. Leonetti would go on to provide camera work for many Dead Silence (2007), The Mask (1994) and The Conjuring (2013). As for music, John D'Andrea and Cory Lerios score is a mixed bag. Instead of Graeme Revells more robust orchestral score from Child's Play 2 (1990), these TV composers revert back to Synthetic tones like that of Joe Renzetti's from the original composition of Child's Play (1988). Yet, without a main theme, this duo at least kept the music sounding creepy. It's hard to say. It's obvious that this production was rushed with its plot being dragged out on the same character but at least its tone didn't change.
Its plot is recycled again and its justification for certain events are totally ignored but the main grab is to see how Andy and Chucky duke it out for the final time. It could've been written much worse by comparison.
Points Earned --> 6:10