Romance comedies are all over the place now a days. Good or bad, they are one the most popular types of comedy films always being produced. So how does one production define itself from another? First, the source material from which it's taken has to be somewhat relevant to today and uncover various issues that go on in everyone's social lives during their youth. Then there has to be a cast of actors that can blend in with this age demographic. And from what it looks like, these specific parts to the film were taken care of nicely. It's still not perfect but it measures up in the end.
Bernie and Danny (Hart & Ealy)
Before the massive following of Kevin Hart turned this movie into one of his vehicles, this title had earlier beginnings going back to 1986 of the same name starring Demi Moore, Rob Lowe, James Belushi and Elizabeth Perkins. Of course that was a different time then too. The characters' names remain the same, but the actors are different. The story revolves around two homeboys and their girlfriends and how they try to live with each other's decisions and how they act with their significant other. All of this occurs when one day Bernie (Kevin Hart) introduces his girlfriend Joan (Regina Hall) and Debbie (Joy Bryant) to his introverted buddy Danny (Michael Ealy). The fireworks just never end between these two couples. Surprisingly, the screenplay doesn't rely on the usual romance-comedy cliches that everyone is familiar with.
Writing for this production is Leslye Headland, who only had one other theatrical release credit prior to this, being Bachelorette (2012), which wasn't considered movie magic. Perhaps it's the source material of which she had to work with. I don't know but it's definitely is more polished here. The leads to this story do wonders too. Kevin Hart, although still loud and rambles his mouth off at least doesn't make the movie feel like it was all about him. This time he shared the camera with his co-star counterparts, especially with Regina Hall. Both exchange some funny lines together, of which provide most of the energy. And if Regina Hall and Kevin Hart are the energy, then Michael Ealy and Joy Bryant are the foil to them, displaying the romantic side of being with a significant other.
Its good to have this contrast because it shows the fun you can have when it comes to being outside or inside the house. Along with this come the struggles of the outer forces that always seem to interfere with our desires and goals. Work, Ex-girlfriends, pets and babies. These particular topics are all addressed in a way that feels more relevant today than it ever has before. Even more remarkable is that certain topics like Ex's, is handled in a way that would seem cliche but ends up concluding in a different direction which is good. Also because this is an R rated comedy, the loves scenes will be more explicit than your regular tween PG-13 movie.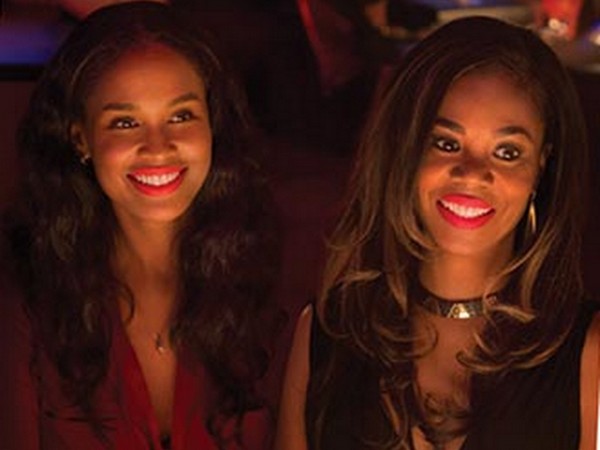 Debbie and Joan (Bryant & Hall)
In fact, some of the scenes are just downright goofy. This is fine though because for two reasons. First, this is a comedy, so if goofy is what it takes to be funny, so be it. Second is that sex can be funny. No one ever said it ever had to be serious or always passionate either. Aside from this though, the heavier emotional scenes are also handled with care. At some point, each character will see the error of their ways, which leads them to rethink their decision. All proper and required development to have likable and memorable characters. If there's anything pick on for this production its the audio and visual style to the movie. The music composed by Marcus Miller does fit the scenes they are played in, but do not stick out. Also the cinematography is rather repetitive. The sets do not seem to deviant from more than three places so the settings become too familiar too quickly. However, that's not much to be concerned with. Overall it's a good time.
A romance-comedy that doesn't stick to the usual formula, viewers should get a kick out of this contemporary take on the struggles of people who catch strong feelings for each other. Plus, the story is supported by a humorous cast and likable characters.
Points Earned --> 7:10