When it came to this movie in particular, it seems as though this would have been the finale to Kim Possible's TV run as a cartoon. Turns out fans of the series protested to the mouse house and demanded another season. Talk about dedication. What makes this final TV movie of baby sitter turned World Saver Kim Possible more enjoyable than Kim Possible: A Sitch in Time (2003) or any other feature is that it nicely ties together the loose ends for Kim Possible in her academic career and personal life. Kim Possible: A Sitch in Time (2003) just had Possible and Stoppable correcting the altered past caused by Dr. Drakken and his goonies playing with the magic time monkey idol. It was good but did not move anything forward, just fixing the past. Here, Dr. Drakken gets even more personal than before to disrupt Kim's livelihood. The best part is Dr. Drakken actually having the upperhand on everybody for a while.
Friend Zoned like a boss
When a new boy named Eric comes to Kim's school, she begins to fall for him. This results in Ron Stoppable becoming jealous, thus having himself reassess his feelings for her. There really isn't much to say about what isn't good about this TV feature. The only thing that's worthy of a critiquing is that the running time could have been longer so Kim Possible could have went out with a bang. Then again, perhaps it was also kept short because fans were demanding another season after this, so it's difficult to say where it really should've concluded. Everything else manages to entertain with ease. All the voice actors return for their respective roles and give enjoyable performances too. Christy Carlson Romano and Will Friedle voicing the comedic action duo still have the skills to do their characters justice.
Nancy Cartwright as Rufus also is another fun role. Even the minor characters return; Wade (Tahj Mowry), Monique (Raven-Symoné), Ned, the Bueno Natcho Cashier (Eddie Deezen) and even Maurice LaMarche (best known as The Brain) plays a character. And of course Shego (Nicole Sullivan) and Dr. Drakken (John DiMaggio) return too as the villain duo that just can't seem to ever get it right when it comes to world conquest. As a side note, April Winchell voices a news reporter and it's hilarious to hear the way she speaks for this character. As a story, Disney writers Robert Schooley and Mark McCorkle made good use of what happens when you take people for granted. Ron Stoppable was so used to being around Kim Possible that he didn't realize what would happen if another guy entered Kim's life that took more precedence over him. It is a very common issue that friend zoned guys come in contact with. Viewers should also have fun watching Stoppable notice that Dr. Drakken still doesn't know his name after so long.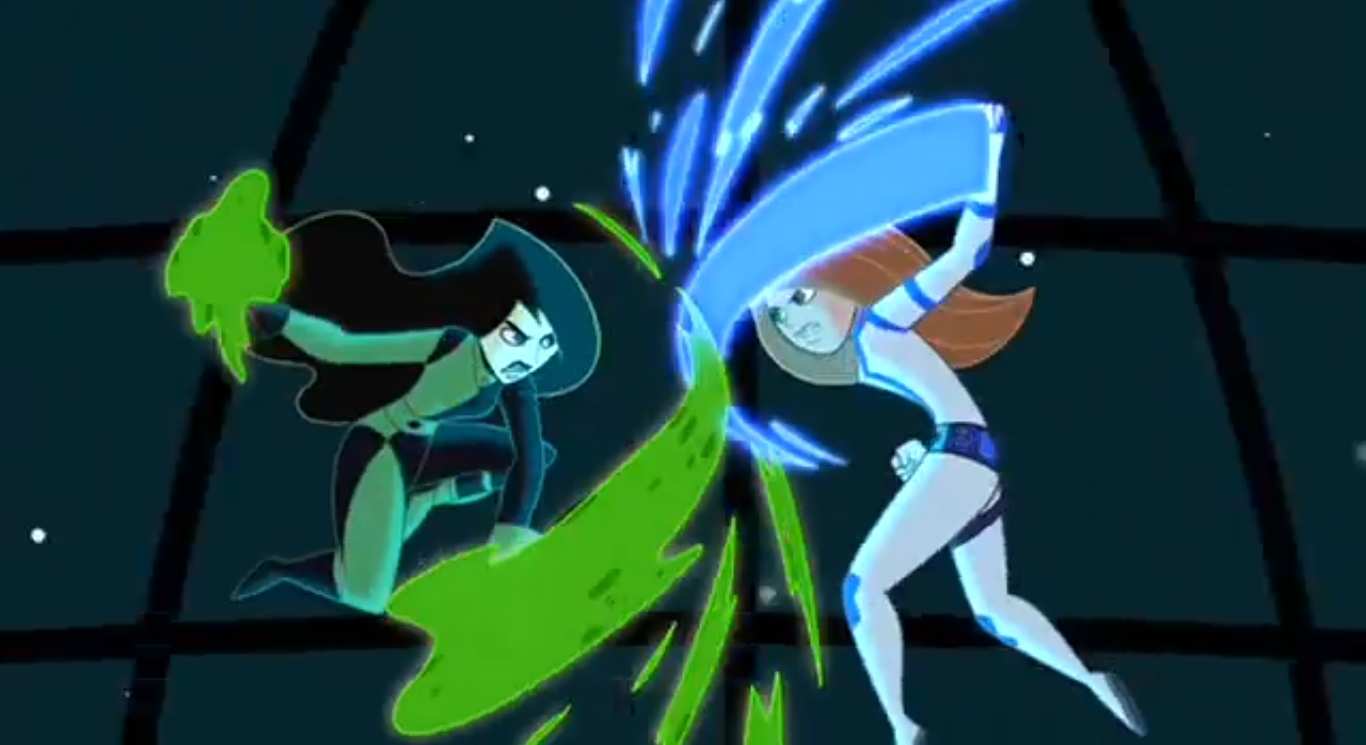 That action though
As an animation feature, everything is done accordingly. Since this isn't an official film feature, the animation wasn't polished because it still looks like it belonged to the cartoon. It's nothing to get fussy over though. The action and music also satisfy as usual. Director Steve Loter, who has worked the Kim Possible TV series and the Buzz Lightyear of Star Command TV series definitely knows how to make the action fun. There's plenty of explosions, fight sequences and other things that not every cartoon now a days displays for younger audiences. Lastly, the music provided by TV composer Adam Berry is fine. Berry continues to play the Kim Possible theme and even includes "the naked mole rat" number for Rufus. Any scene in between is used appropriately too. Not much else to say other than a fun time.
Except for not being longer than 70 minutes for Kim Possible's last TV movie, all the other components work like they have been. The voice-actors, action animation, music and comedy continues to entertain fans of the series.
Points Earned --> 8:10