Everyone in the world may not celebrate it, but during December, many countries and cultures around the world celebrate Christmas. As heard through several mediums, it is the season of giving and being joyous. However it is important to note that this isn't the only time people should be merry with each other. The attitude should be carried out as much as possible; but this is far from the case. In various circumstances there have been incidents where people are not nice to each other. This is most commonly found among consumers in popular shopping malls or more relatably at home where family members must confront other members that just aren't worth it. These are norms that many people will not acknowledge or bother to recognize because many do not want to confront it. They are however apart of today's culture and things many people have to deal with. Of course there are also some that just want to escape it all, but be careful what you wish for. That is at least according to writer/director Michael Dougherty.
kreepy krampus
Seeing he made such a cult classic with his Halloween holiday horror film Trick R' Treat (2007), it's no surprise he produced another holiday horror film except this time for Christmas. Written by Dougherty, Todd Casey and Zach Shields, the story follows Santa-believer Max Engel (Emjay Anthony), a boy trying to enjoy the holiday. Problem is everyone around him except his loving parents Tom (Adam Scott) and Sarah (Toni Collette) feel the exact opposite. When family members arrive and start annoying him, Max makes a wish for them to all go away. Little does he realize it would be his last wish he ever asked for. By doing this he has released the Christmas devil known as Krampus into his small neighborhood. Script wise the plot strikes a poignant note when it comes to morals. Overall, be grateful and don't wish for any harm because the end result may be far worse than what was wanted. The idea itself of Santa's shadow being heavily maniacal is ridiculous but nevertheless true when comparing it to karma.
There are however some minor plot holes that don't make sense. When Krampus arrives, he also makes several other people vanish as well (very quickly). It's understandable that he is supernatural but his speed seems limited. Also there are some motivational contradictions for the holiday demon. When such creatures are summoned, most have a set of rules to follow but it seems as though Krampus doesn't or at least not consistently. Aside from this though, the acting is all done well by every cast member. Even the less important characters like Beth (Stefania LaVie Owen), Aunt Dorothy (Conchata Ferrell), Howard (David Koechner), Linda (Allison Tolman) and Grandma Omi (Krista Stadler) all have development in one way or another. And although this is a horror film, there are also several moments of comedic value to experience. Some of these occasions take place either when family members exchange certain lines or their reactions to preposterous situations. This is surprising considering the tone is more serious than comedic.
As for horror, that's another gift in itself. Sadly the gore isn't as high as one would expect since Dougherty did make Trick R' Treat (2007), but believe it or not, it still works. There are several things to enjoy about the way Dougherty handles the movie. For much of the running time, Krampus is hidden in the background. The image of the creature itself is disturbing - with a hunchback, giant horns and rickety sounding joints. Adding to that is a bunch of other creative holiday ghouls that are just so ugly its amazing to see. The way it's presented is through a mix of CGI and practical effects but most of it looks practical. This is excellent because the degree of detail on these monsters look spectacular. Who knew such regular everyday items could be so hideous. Aside from the level of gore, the only other thing that may disappoint horror fans is the level of horror it takes its viewers. Perhaps this is because of its rating but it just isn't that scary. The horror and imagery is great but there's nothing to fear. Thankfully there aren't a lot of stings.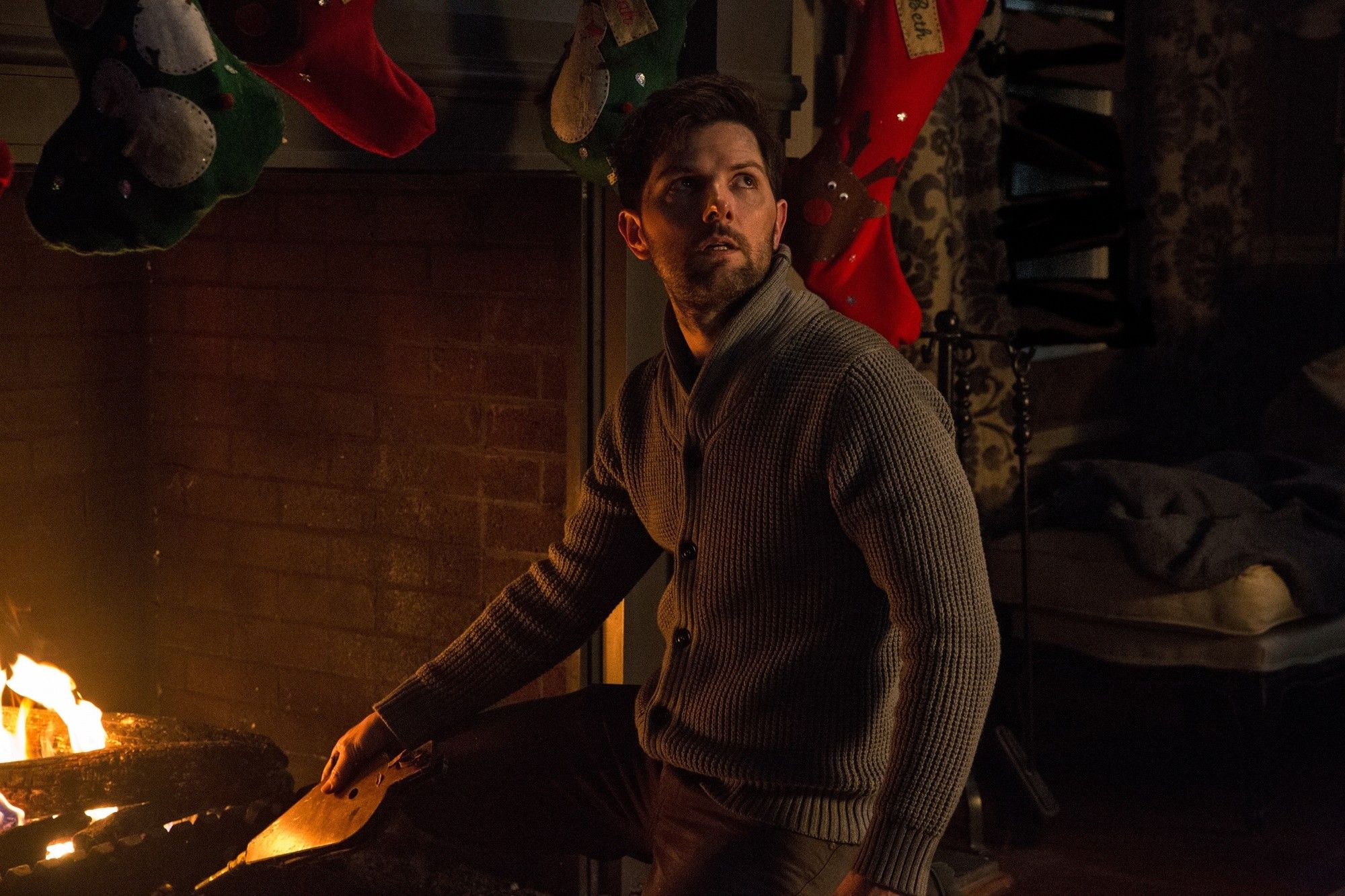 Adam Scott
Cinematography was another different experience thanks to Jules O'Loughlin. Rarely do horror films change their setting when it comes to execution. However this is different since it takes place in the middle of a snowstorm. How often does one think about the horrors of dying in the cold? O'Loughlin's skill also works very well with how the scenes are shot. Much of it has him capturing large amounts of the house's interior to show what's around. There are even some slow motion shots for comedic value. On a side note there's also a short stop-motion animated segment that is impressively put together as well. Kudos to that. As for music, Douglas Pipes' film score is another great audio effort. The composition is a mix of a few comedic and several horror cues that lift the main theme from classic Christmas songs. The difference is, Pipes puts them into a minor key. The score itself is well constructed with regular orchestra, Christmas bells, tribal drums, horns and church bells. A great sounding holiday horror score.
Although it may miss a few exposition points when it comes to consistency, the overall product is a unique holiday horror film. Krampus is truly an iconic monster smartly brought to life with relatable writing, creepy monsters and fantastic music.
Points Earned --> 7:10