How many times are creatures and monsters ever portrayed in a human like fashion? Not often. As for this movie, it is one of the few who come out of the woodwork and display a sense of creativity, charm and even a life lesson. And to be honest, just from the trailer, it seemed that careful thought was put into making this movie be as good as it is. For his first feature film, director Genndy Tartakovsky's direction in animation and character design have a very unique style. And although this is his first time taking on a movie, he is able to display his talent thoroughly after directing several other animated cartoons like Samurai Jack (2001) & Dexter's Laboratory (1996).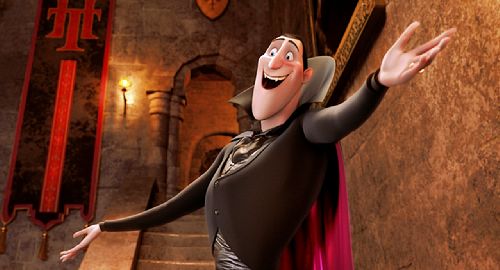 Count Dracula
The story is about an over protective dad / hotel owner, Count Dracula (Adam Sandler) who only wishes to keep his free spirited daughter Mavis (Selena Gomez) from visiting the outside world. Thankfully, the hotel he has created is what's supposed to keep the outside world from coming in. This allows the Count and his daughter to live safely along with every other monster / creature one could think of that would want to spend time at his hotel. Little does Dracula know that someone from the outside world will come strolling in, a human named Jonathan (Andy Samberg). But when this happens, things turn around for the better.
Along with Sandler, Samberg and Gomez are various other popular comedians like Kevin James as Frankenstein, Fran Drescher as Eunice (his wife), Steve Buscemi as Wayne the werewolf, David Spade as the Invisible Man, Ceelo Green as Murray the Mummy and tons more. Together, they make characters so likable that it's hard not to resist them. Again going back to Tartakovsky's direction, the way each character looks, resembles their actors quite proficiently. Compare Dracula and Adam Sandler and you'll understand. Plus, the computer animation is so evenly mixed together that the whole movie will feel like a very smooth ride, which is great.
The writing isn't mediocre either. If there's one thing I'll pick at, it's that for a while when Jonathan (Samberg) entered the frame, there seemed to be no break or pause between the dialog which made me feel like the characters were on a sugar rush. It did slow down later on but before that it was moving very quickly, almost to the point where I felt like I wasn't catching everything that was being said. But besides that, I love how the story starts and ends. What's even more interesting is how the story doesn't revolve around Mavis (Gomez) as much I thought it would. Mavis plays an important role but the character development of her father Dracula (Sandler) is what stands out. And to be honest, seeing the character development in Dracula was more gratifying than if he were to take a back seat by the third act.
Jonathan & Mavis
And although the story is cliche in some senses with finding true love and everything is hunky dory at the end, there are two things that must be understood; it's a family movie and that particular part isn't necessary to get upset over for this kind of movie. Along with the actual story, the comedy was also well executed. There are several things people will be able to relate because of how Dracula and his family perceive to handle various situations as us humans would. They even mock at Twilight (2008), talk about breaking the fourth wall huh? The musical score provided by composer Mark Mothersbaugh did a decent job too. I didn't hear a main theme but to be honest, it wasn't needed this time. His music flowed with the movement of the picture and it worked nicely.
The animation is smooth, the actors use their voices effectively and the comedy is strong. But what makes it good is its story with an integrated moral lesson.
Points Earned --> 9:10