If there is one Dark Horse comic book property that many people enjoy and respect, its this adaptation. It's obvious that a lot of work and effort went into this to make it as good as it is. Apparently this was also director Guillermo del Toro's dream project way back when he first started directing. But that's not the only reason why everything comes together here. Every element of the film has something to contribute.
Ron Perlman as Hellboy
Let's begin with what's the most easy to notice - the casting. It's spot on. Ron Perlman as Hellboy was the perfect choice and it's great that del Toro stuck with his gut instinct and ran with it. Perlman has the voice, he has the chops and has the wit to give Hellboy just the right amount of charm and machoness. The rest of the cast were accurate choices as well. John Hurt is an older actor so it's fits that he would play Dr. Broom. Selma Blair as Liz Sherman is beautiful in her own way because of her troubled past. And Abe Sapien physically played by Doug Jones and voiced by Daivd Hyde Pierce was a great mix.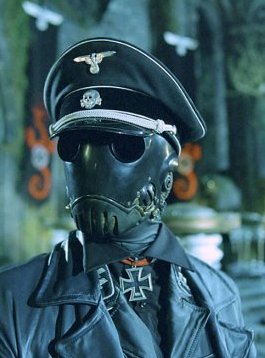 Kroenen
Hyde Pierce was the same man who voiced Slim in A Bug's Life (1998), Drix in Osmosis Jones (2001) and Dr. Doppler from Treasure Planet (2002). Then there's the strangest villain of all, Karl Kroenen played by Ladislav Beran. What a creepy character! Beran's movements actually reminded me of a mix between Ray Park's Snake Eyes from the G.I. Joe franchise and Anis Cheurfa's Rinzler from Tron Legacy (2010). Then there's the special effects. Much of which look practical - solid or liquid elements. Certainly the creatures are practical because that is Guillermo del Toro's specialty.
Unfortunately, like most superhero / blockbuster films, the protagonist is set to battle for all of humanity. It's cliche but there's one part to the writing that tops that. Just like many other films, a key plot point involves a magic key to fulfill a prophecy. This kind of plot point is really overused. Thankfully this is covered up for most of the time until the third act. Plus there's one last element that helps this movie excel - Marco Beltrami's musical score. Beltrami's music hits the right note on all angles. His score has a main theme for our hero and also mixes horror tones with action cues and emotional motifs throughout the running time. A fun film piece.
Its writing contains the usual superhero cliches but every other aspect of the film hits as hard as Hellboy's rock hand. The actors represent their characters accurately, the action is great with lasting special effects and a memorable score.
Points Earned --> 9:10