It's always been many people's dreams to become famous. Who could resist having tons of fans, lots of money and being able to do anything you want? It's a big change for anyone who makes this transition and most of the time, they end up cracking under pressure. Once this happens, frequently, the newly discovered celebrity will turn to drugs and other means to escape reality to find peace among themselves. But how often does someone discover the right person that'll keep him or her from going down the wrong path while in this state of glory? Now a days, it happens often enough that nobody thinks about it. Back then though, probably was a different story.
Imagine how many extras this production used?
Audiences will be introduced to artist John Norman Howard (Kris Kristofferson), an entertainer who's stardom is beginning to die among his fans. He takes drugs, drinks constantly, and sings the same hits every time he's on tour. Until one night, he goes out on the town, decides to sit at a local bar and discover someone who can sing just as good if not better than him. That singer is Esther Hoffman (Barbra Streisand), a girl just trying to make a living, seeking love and hoping to make it big in show biz. It's John who's going to help her get there. Thus allowing Esther to as John puts it - "Getting small piece of the American Dream". Ergo the title of the movie.
The movie is directed by Frank Pierson who also wrote for Cool Hand Luke (1967) and Dog Day Afternoon (1975). Pierson also wrote the screenplay with two other writers who formed a fairly solid story. The only weak point is the unclear characterization Kristofferson's character. There are some motivations of John Norman Howard that aren't exactly explained. He'll do actions that should require explanations to but doesn't give one. It's understood that he's a wild and free man but every action has a motive behind it. They don't just go unexplained. Other than that, Kristofferson's performance is well acted. It's even more coincidental that a lot of the scenes displayed throughout the running time depict rather closely to what Kristofferson himself was going through at the time of his life.
Barbra Streisand also puts in a good performance as the unknowing upcoming celebrity that is forced into the life of popularity and paparazzi. Of course, when Streisand and Kristofferson are together, their chemistry feels natural. This is also displayed when these actual artists perform together as well. Audiences should appreciate that Streisand had the singing scenes filmed without voice-over work. It makes the performances and singing that much more believable and emotional. There's also a few other actors who pop in from time to time. Tony Orlando and Kristofferson's future spouse Rita Coolidge have a scene together. A very young and what appears to be sane Gary Busey plays John Norman Howard's head collaborator. Even Robert Englund from A Nightmare on Elm Street (1984) has a brief scene.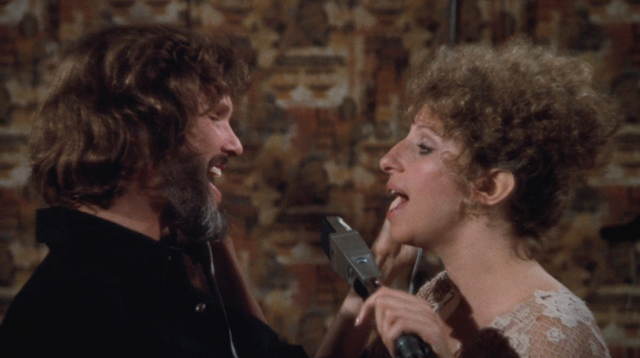 Scenes like these were all done without lip sync
Although the films running time is about as long as your normal Michael Bay summer blockbuster (which may bore some viewers), these last few pieces help make the film as entertaining as it can be. Assisting to condense the movie as much as it could and make scenes flow was editor Peter Zinner who also edited for The Godfather (1972). Then there's Roger Kellaway's score to the film, which does try to keep the emotions high. However, it's not always present because half of the emotion is shown in the singing done by the main leads, which should satisfy most score aficionados. Lastly is Robert Surtees' cinematography where he captures very large concert audience shoots and some very beautiful rural landscape. It's an entertaining human drama with some flaws.
It lacks a little characterization and might be long for some, but the actors portray raw emotion and real performances to boot. The story is also a good representation of how quickly popularity can fall or soar.
Points Earned --> 7:10