Life lessons are not always the most prevalent in coming of age genre films. Sometimes they're real obvious, while others are more obscure and look to have their viewers find the deeper meaning themselves. It's also hard to say how significant a coming of age film can be when it is a Rated R comedy. Some have worked brilliantly - The 40 Year Old Virgin (2005) is one. This on the other hand is a strange mix of elements that plays its cards right in some respects, while at other moments it's questionable to what the crew was thinking here. This is the story of Johnny Walker (Anthony Michael Hall), a high school athlete who has quite a fan club. After winning the last football game of the season (by cheating no less), Walker is approached by recruiter upon recruiter to play for their college team.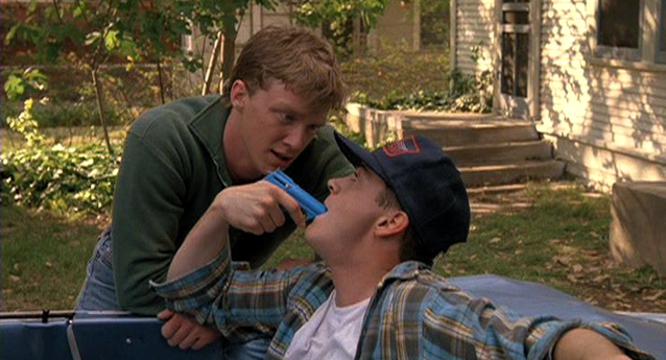 Nothings stopping you,....do it, I dare you!
There are also other people who want Johnny to go with their opinion. Wayne Hisler (Paul Gleason), the high school coach wants him to attend a college of his choice so he can acquire special benefits and he'll do anything to make sure it happens. Johnny's mom and grandpa want him to get an education more than a sports scholarship and his girlfriend Georgia (Uma Thurman) wants him to attend State with her. So many opinions, which one will he choose?! Well, Johnny ends up attending mostly all of their open houses. This ends up having him being bribed with things that seem almost unrealistic or things that have nothing to do with getting an education or playing football. Of course fame grants several of these things but at a high school level? The kid and his team didn't even play fairly winning the last game so how does that even qualify? Are the refs that blind?
Plus, what's even more shocking is to how this production was able to gather now famous actors when they were starting off and the chemistry feels almost nonexistent. And, the screenplay was completed by three writers, all of which worked on Revenge of the Nerds (1984). How is that barely any charm are given to these characters? There are only a couple of moments that Johnny goes through that actually develop him as a character. Other than that he's placed in silly events that should trigger his conscience saying he shouldn't be there. The best parts of the film are when Johnny's family is on screen. Somehow they seem to have the best lines and character arcs. My favorite family member was the grandfather (George Hall). Such a nice old man.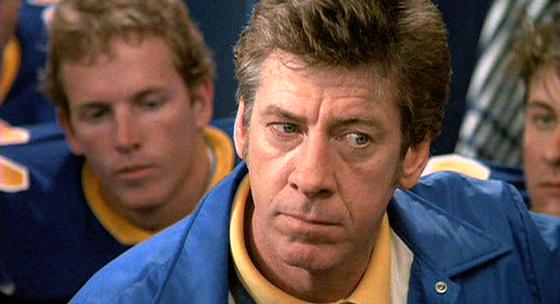 Paul Gleason
Uma Thurman's character has a very typical character arc, loves her boyfriend - finds him as a jerk briefly - then resorts back to him. Possibly the strangest of all is Robert Downey Jr.'s character. Either he tries too hard to be funny or his jokes don't make any sense. It's baffling, I guess Downey Jr. didn't realize how much funnier he is when he says his lines deadpan than actually trying to be comical. Fans might also get a kick out of actor Marshal Bell's performance as Uma Thurman's dad, also the chief of police. He has some funny one liners at times too. All right enough of the characters. Jay Ferguson's music to the film is appropriately set but doesn't have anything to remember about it. Was it a comedy that had laughs galore? Not so much. Does it feel like a coming of age movie? Not really.
The cast contains famous actors of today in their youth and has a moral somewhere in its story but its delivery is overshadowed by hit and miss comedy. Much of the events that take place feel impossible too, decreasing its believability.
Points Earned --> 5:10