Filmgoers and critics alike are split on what to think on Ivan Reitman's films. Most would probably say that his earliest productions were the most original and fun. The best example being Ghost Busters (1984). But as time went on, Reitman started making some oddballs like Twins (1988), Kindergarten Cop (1990) and Junior (1994). Then he started reverting back to more realistic normal comedies. This particular film is in this group and has things going for it. The problem is that it gets too bogged down with other details that it forgets what its main purpose was in the first place. The plot focuses on a couple that heads out on vacation when one of them is called back. While returning the partner is stranded on an island with the pilot and must learn to survive together. The plot isn't all that special but the way it's executed is.
They don't look bad together but it does look odd
Anne Heche and David Schwimmer play the couple on vacation as Robin and Frank. There they meet their pilots Quinn (Harrison Ford) and Angelica (Jacqueline Obradors). The two that become stranded on a remote island is Robin and Quinn. There they learn how to survive on their own. Yet, the casting of Schwimmer and Obradors wasn't necessary. It could've just been Robin going on vacation and being stranded with Quinn. It's not that Schwimmer or Obradors aren't funny or can't act, but their character arcs are predictable from the start and it doesn't end clearly either. If a couple is heading to vacation and the first thing your boyfriend does is stare at curvaceous women, I think viewers will have a clear idea where he's headed. It's not new material.
First time writer Michael Browning did an ok job defining each character, but they are either cliched or oddly paired. The other strange casting decision belongs to having Anne Hiche and Harrison Ford being together. Over time after learning how to get along, Robin and Quinn form a relationship. During this time, Ford wasn't the strapping youth he once was. Of course some people still find him attractive but most people's viewpoints would be that Ford is too old to be having any kind of a relationship with what looks to be a late 20s / early 30s woman. It's not uncommon (in real life), but for the movie's sake since age isn't the focus, it feels a bit weird. Also cast in the film is Temuera Morrison (known for Jango Fett), Cliff Curtis and Danny Trejo. They are hard to spot at times, but if you see them it's cool to see.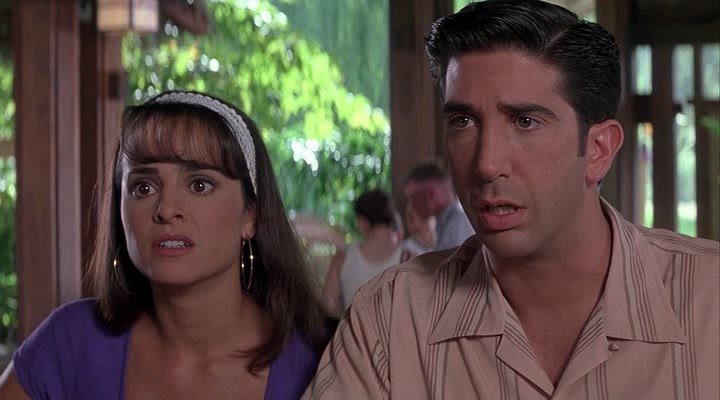 I would've been interested in these two more if it was about them
The comedy also helps relieve audiences of the either familiar story line or characters. Either when it comes to Frank being goofy or Quinn reacting to Robin's actions, it is genuinely funny. Ford has the best quips. Some of it even reminisces to that of something Indiana Jones would say. Besides it's not all fun and games, Quinn and Robin even run into some modern day pirates. Yikes. The cinematography by Michael Chapman looks great. The view of the islands out to sea looks mesmerizing. Even Randy Edelman's score is nice. It has a theme to represent Quinn and Robin and it sounds memorable. The tune involves piano keys, which isn't the most frequent of an instrument included in a score. It works as a comedy but isn't anything new.
The elements of comedy are funny and will have people laughing thanks to its cast. Yet, the casting on a direct basis is questionable and the writing is a bit formulaic.
Points Earned --> 6:10